Bump stops
for shock absorbers
We use our proprietary formula Microlan®, a special MDI expanded polyurethane foam, to manufacture the bump stops for shock aborbers for our customers. We are able to produce large quantities for spare parts dealers, intermediaries and OEMs in the automotive sector.
The main features of our
Bump Stops in Microlan®
high wear and abrasion resistance

high traction and tear resistance

excellent cushioning capacity

high flexibility at low temperatures

high resistance to oils, greases, oxygen and ozone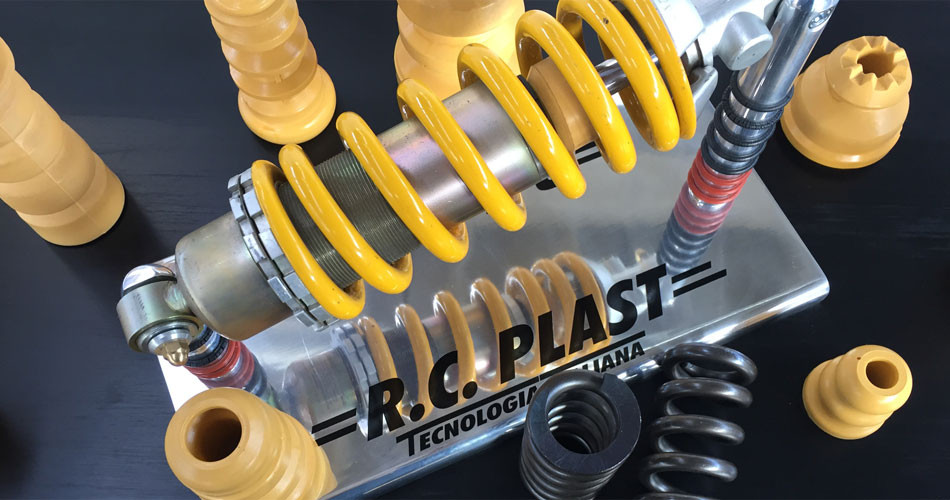 What we manufacture
In addition to Bump Stops, we are specialized in the industrial production
of articles made with polyurethane expanded foam and thermoplastic
for all uses in the industrial sector with particular attention to the automotive sector.
MDI items:
polyurethane
Microlan®
TPU items:
thermoplastic
polyurethane
EPDM: closed
cell expanded
rubber
Certified quality
We are a certified production company in "Quality Management System" in compliance with the UNIEN ISO 9001: 2008 Sector EA, Code 14, for "special polyurethane fabrications and plastic material by injection molding and casting process for automotive and industry".
Quality Policy

In order to achieve IATF 16949 Certification, we are committed to
maintain high quality standards with a view to the full satisfaction of its customers and
improvement of its quality management system.
High technology
At RC Plast we are very attentive to the technological evolution of our sector.
We periodically invest resources and time to improve our production processes and instrumentation and machinery, to obtain high quality products that meet the needs of our customers.
Our purpose is to satisfy all the requirements for our customers,
supplying the best solution for them.
Please feel free to

TO HAVE MORE INFORMATION